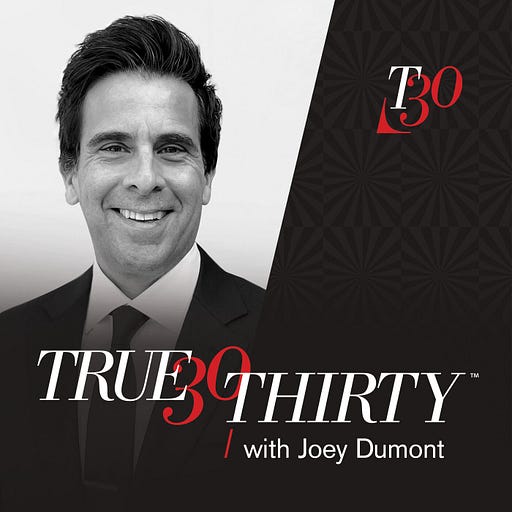 Sep 15, 2022 • 1HR 14M
"I'm a Trans Woman" with Dr. Kris Rizzotto
True Thirty, with Joey Dumont is a podcast that discusses and debates our society's most politically compelling topics through the lens of slow journalism. Each show is investigated with a focus on narrative as well as discovery. We believe that the complexity of culture cannot be crammed into six-minute television segments, or snippets and memes on social media, where ideology and entertainment is now the priority. On the program, you'll hear the opinions of subject matter experts who'll explore the tangled topics of our day. Our collective goal is to help people better understand one another, not win a battle. After listening, you'll be reminded that a proper debate is not about victory, but that of inquiry, education, and viewpoint diversity. So tune in and talk amongst yourselves. You may even learn a thing or two.
Over the past eight months, I've interviewed over twenty clinicians, researchers, journalists, and therapists on the topic of gender dysphoria. I've done this to better understand the width and breadth of a global phenomenon that has only begun to capture our collective attention as a society.
Not only is the topic of gender dysphoria controversial, it has proven to end careers, reputations, and relationships for simply asking questions, or pushing back on the immutable narrative that Trans Women are Women, or that Gender Affirming Care is the solution to what ails our trans community.
In addition to my talks with clinicians and subject matter experts from Australia, Britain, and Scandavia, I've interviewed numerous members of the trans community, most of whom would only talk "off the record" for all of the reasons stated above.
Today, however, we're joined by a brave young trans woman named Dr. Kris Rizzotto, who talks at length about her own battle with gender dysphoria as a child, her eventual transition, her religious faith, her "coming out" to family and friends, and her blissful role as a mother.
To be clear, Kris was not only willing to come on the show, she did so, and I quote, "to add something of value to this conversation and understanding of all things trans – from the perspective of my own lived experience as a trans woman…"
I hope you learn as much as I did from Kris. She's truly a special person, and I was honored to have her on the program.
Watch Episode:
True Thirty is a reader-supported publication. To receive new posts and support our work, consider becoming a free or paid subscriber.