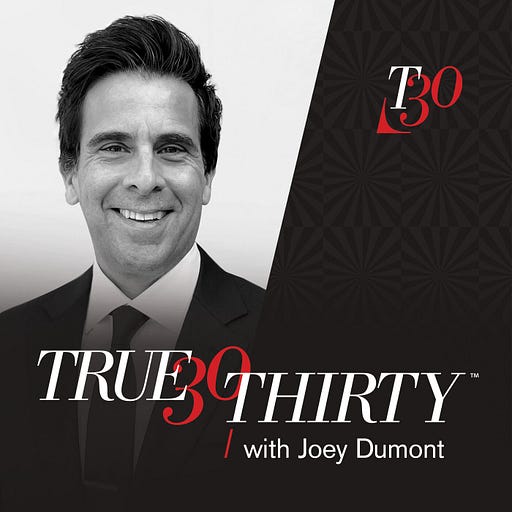 Jul 11 • 1HR 1M
Part 1: "Why We Hate Each Other," with political scientist Tim Redmond
True Thirty, with Joey Dumont is a podcast that discusses and debates our society's most politically compelling topics through the lens of slow journalism. Each show is investigated with a focus on narrative as well as discovery. We believe that the complexity of culture cannot be crammed into six-minute television segments, or snippets and memes on social media, where ideology and entertainment is now the priority. On the program, you'll hear the opinions of subject matter experts who'll explore the tangled topics of our day. Our collective goal is to help people better understand one another, not win a battle. After listening, you'll be reminded that a proper debate is not about victory, but that of inquiry, education, and viewpoint diversity. So tune in and talk amongst yourselves. You may even learn a thing or two.
Timothy J. Redmond received his PhD in political science from the University at Buffalo. He's an award-winning educator and author of over one hundred articles on critical thinking and politics and the book Political Tribalism in America: How Hyper-Partisanship Dumbs Down Democracy and How to Fix It. 
He teaches political science and history at Williamsville East High School and Daemen University. And in his spare time, he plays drums for the hardcore/punk rock band Snapcase.
During our chat we talked about the origins of tribalism, from our early religious wars, to William Golding's book Lord of the Flies, and how this very human characteristic of tribal behavior has caused modern day Democrats and Republicans to have an unfavorable opinion of the opposing party almost 90% of the time. 
We then got a bit wonky while discussing the importance of placing Party over Policy, how we can better acquire and evaluate false political information, decipher political polls and complex statistics, and how best to navigate the stream of phony headlines and fake stories.
We ended our discussion with the Story of Oresteia, a collection of plays that illustrates the tragedy of tribalism and revenge as only a Greek tale can.
It was my pleasure to have Professor Redmond on my show, and I hope you learn as much as I did during our chat.
Watch Episode: