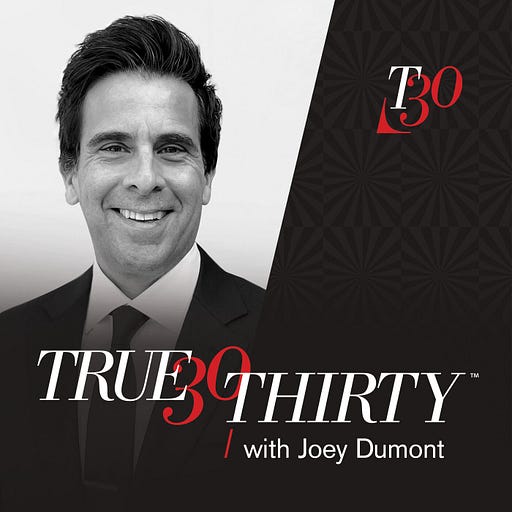 May 16 • 1HR 31M
Why Special Police Units like SCORPION are a Bad Idea
True Thirty, with Joey Dumont is a podcast that discusses and debates our society's most politically compelling topics through the lens of slow journalism. Each show is investigated with a focus on narrative as well as discovery. We believe that the complexity of culture cannot be crammed into six-minute television segments, or snippets and memes on social media, where ideology and entertainment is now the priority. On the program, you'll hear the opinions of subject matter experts who'll explore the tangled topics of our day. Our collective goal is to help people better understand one another, not win a battle. After listening, you'll be reminded that a proper debate is not about victory, but that of inquiry, education, and viewpoint diversity. So tune in and talk amongst yourselves. You may even learn a thing or two.
As part of True Thirty's continued reporting on policing in America, I'm joined today by two former leaders in law enforcement, Nicholas Sensley and Eric Litchfield.
Chief (Ret.) Nicholas Sensley's diverse experiences include military service, 24 years as a peace officer, and volunteer development in transitioning and developing nations worldwide.
In June of 2020, Chief Sensley launched the Institute for American Policing Reform to a national outcry for police reform following the murder of George Floyd. 
Before launching the Institute, and concurrent with his active police service in 2001, Chief Sensley formed Cross Sector Solutions LLC as an international consortium of experts who build and facilitate strategic partnerships among governments and NGOs for the benefit of development of our communities throughout the world.
Eric Litchfield was a former police captain with the Santa Rosa Police Department, who served 28 years on the force. While there, Eric managed numerous divisions that include: Patrol, Traffic, Tactical Teams, the Incident Management Team, Detectives, Training, and Professional Standards and Education. 
Litchfield is now the Vice President of Education and Standards for the Institute of American Policing Reform. 
During our chat, we talked about Special Police Units and Task Forces. We discussed their origin, purpose, and why these units need more budget, oversight, and leadership if they are to continue at all.
We discussed the lunacy of the naming conventions of many of these Special Police Units…names like SCORPION, CRASH, RED DOG, and TITAN, and how these names became a self-fulfilling prophecy of overreach and unmitigated violence. 
We also talked at length about the need for contiguous standards and education with the more than 800k uniformed police officers in the United States, and how we can begin to build a more constructive dialogue between the men and women of law enforcement and the communities they serve.
It was my honor to talk with both Chief Sensely, and Capt. Litchfield about these controversial topics. 
I hope you learn as much as I did with their candid and honest answers to my questions.
Watch Episode: