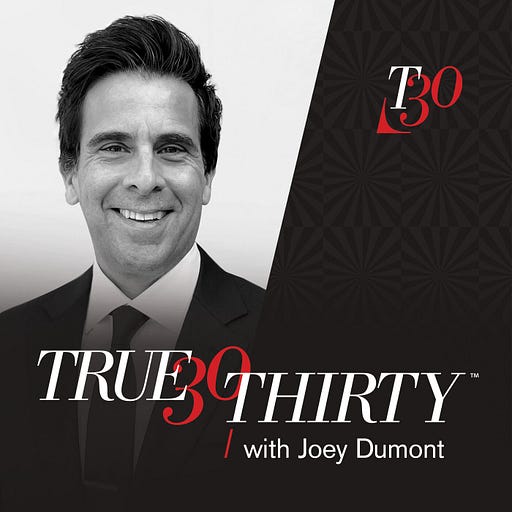 Feb 7 • 58M
"Why is campus rape still so common?" with Julie Smolyansky
True Thirty, with Joey Dumont is a podcast that discusses and debates our society's most politically compelling topics through the lens of slow journalism. Each show is investigated with a focus on narrative as well as discovery. We believe that the complexity of culture cannot be crammed into six-minute television segments, or snippets and memes on social media, where ideology and entertainment is now the priority. On the program, you'll hear the opinions of subject matter experts who'll explore the tangled topics of our day. Our collective goal is to help people better understand one another, not win a battle. After listening, you'll be reminded that a proper debate is not about victory, but that of inquiry, education, and viewpoint diversity. So tune in and talk amongst yourselves. You may even learn a thing or two.
Julie Smolyansky was born in Kyiv, Ukraine to Jewish parents. Her family immigrated to the United States in 1976 where her father founded the Kefir company, Lifeway Foods in 1986. Smolyansky joined the company in 1997 after graduating from University of Chicago with a degree in psychology. 
After her father died of a heart attack in 2002, Smolyansky became the youngest CEO of a publicly traded firm in the history of our country. She then transformed Lifeway Foods into a multinational conglomerate, growing its annual revenue from 12 million to over 130 million in 2015. 
Even more impressive than her tenure as a corporate executive, is her service as a board member to organizations like the Anti-Defamation League, Hebrew Immigrant Aid Society, and the Illinois Holocaust Museum and Education Center.
Additionally, Smolyansky has been very active in the conversation on sexual violence of women and girls, both as an advocate and a survivor. In 2015, she served as an executive producer or the award winning documentary, The Hunting Ground, an award winning exposé of rape crimes on U.S. College campuses.
Smolyansky is yet another powerful woman that has made a difference with her outreach and involvement, and why I feel lucky to have her join me on the show.
Watch Episode: