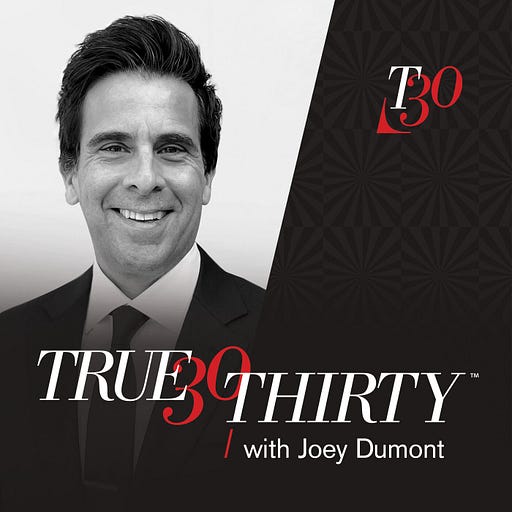 Jan 12 • 1HR 6M
The Puxxy Papers by Jacqueline Buckingham
True Thirty, with Joey Dumont is a podcast that discusses and debates our society's most politically compelling topics through the lens of slow journalism. Each show is investigated with a focus on narrative as well as discovery. We believe that the complexity of culture cannot be crammed into six-minute television segments, or snippets and memes on social media, where ideology and entertainment is now the priority. On the program, you'll hear the opinions of subject matter experts who'll explore the tangled topics of our day. Our collective goal is to help people better understand one another, not win a battle. After listening, you'll be reminded that a proper debate is not about victory, but that of inquiry, education, and viewpoint diversity. So tune in and talk amongst yourselves. You may even learn a thing or two.
Jacqueline has been described as having "never played by anyone else's rules" by W Magazine and has "embodied the season's audacious mood" by The New York Times. Harper's Bazaar wrote, "...As an actress with a taste for high drama, she figured understatement was beside the point."
Nominated for the TED main stage to talk about the connection between female sexuality and the global imbalance of power, Jacqueline is an impassioned voice for abortion rights, gender equality, and mental health.
She is an accomplished actress, writer, producer, director and lifestyle entrepreneur, whose latest creative project is called, The Pussy Papers, a pro-choice initiative exposing the connection between female sexuality and the global imbalance of power, The Pussy Papers reveals one woman's exploits into sexism, censorship, and 5 letters that strike a national nerve. The Pussy Papers will premiere on January 12th, 2023 on The Pussy Channel, supported by Uncensored Media. A non-profit platform and disruptive female approach to delivering content that counts, The Pussy Channel champions stories that have been censored, subjects that have been silenced, and topics that have been taboo.
Her greatest honor is being the mother to her 16 year old daughter and 26 year old son.
And if you are wondering why I spelled the word Pussy with two XXs in the Headline, you simply need to listen to our conversation to understand why I did so. I promise it will be worth your time.
I hope you enjoy this episode as much as I did. Jacqueline Buckingham is truly one of a kind!
Watch Episode:
YouTube: @thepussychannel
Merch: www.thepussystore.com
True Thirty is a reader-supported publication. To receive new posts and support our work, consider becoming a free or paid subscriber.