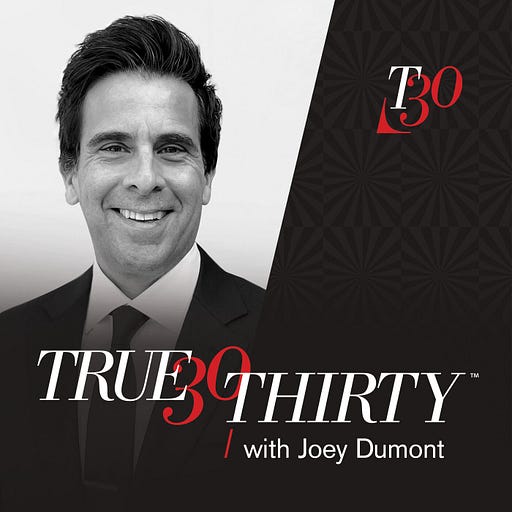 Nov 4, 2022 • 1HR 28M
Levi's Unbuttoned with Jennifer Sey
True Thirty, with Joey Dumont is a podcast that discusses and debates our society's most politically compelling topics through the lens of slow journalism. Each show is investigated with a focus on narrative as well as discovery. We believe that the complexity of culture cannot be crammed into six-minute television segments, or snippets and memes on social media, where ideology and entertainment is now the priority. On the program, you'll hear the opinions of subject matter experts who'll explore the tangled topics of our day. Our collective goal is to help people better understand one another, not win a battle. After listening, you'll be reminded that a proper debate is not about victory, but that of inquiry, education, and viewpoint diversity. So tune in and talk amongst yourselves. You may even learn a thing or two.
Jennifer Sey is an American author, filmmaker, business executive and retired artistic gymnast. She was the 1986 USA Gymnastics National Champion, and a 7-time member of the U.S. Women's National Team.
Her first memoir, "Chalked Up," was published in 2008, and detailed the systemic abuse of children in the sport of gymnastics. She also produced the 2020 Emmy award-winning documentary film, "Athlete A."
Sey began working at Levi Strauss & Co. as a marketing assistant in 1999, rising to Chief Marketing Officer and then Global Brand President. In January 2022, she was asked to resign because of her vocal opposition to the extended closure of San Francisco's public schools.
Set for release on November 15, Sey's latest memoir, "Levi's Unbuttoned," not only recounts her rise up the corporate ladder and the events that led to her ouster, it also gives an unprecedented, insider's view of the cruel, exploitative hypocrisy that underpins woke capitalism. She is a mother of four, and now resides in Denver with her family.
During our chat, we talked about why she turned down a million dollar severance package to tell her story – Levi's progressive corporate orthodoxy – and how the social activists of her own political party proved to be her largest and most intolerable critic.
Watch Episode:
True Thirty is a reader-supported publication. To receive new posts and support our work, consider becoming a free or paid subscriber.