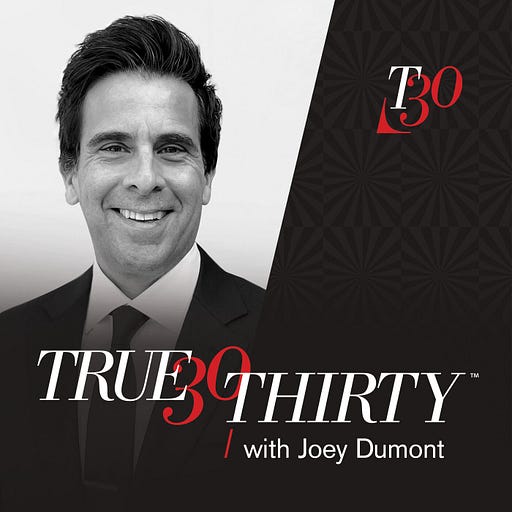 Feb 14 • 1HR 4M
"How the democrats can win back the working class" with Justin Dangel
True Thirty, with Joey Dumont is a podcast that discusses and debates our society's most politically compelling topics through the lens of slow journalism. Each show is investigated with a focus on narrative as well as discovery. We believe that the complexity of culture cannot be crammed into six-minute television segments, or snippets and memes on social media, where ideology and entertainment is now the priority. On the program, you'll hear the opinions of subject matter experts who'll explore the tangled topics of our day. Our collective goal is to help people better understand one another, not win a battle. After listening, you'll be reminded that a proper debate is not about victory, but that of inquiry, education, and viewpoint diversity. So tune in and talk amongst yourselves. You may even learn a thing or two.
Justin Dangel is a serial entrepreneur who has founded and led successful companies like Firefly, Ready, and Goji, due to his genuine hope of helping people in need. 
Justin is also a political wonk who founded Voter.com in 2001, an early adopter in online news media. Under his leadership the company generated over 3.5 million monthly active users and 500,000 newsletter subscribers. Voter.com was a repository for digital content that helped Americans educate themselves about local, regional, and national politics. Or to quote Justin directly, "Voter.com delivered the kind of information voters needed to make informed decisions about their elected officials."
His political and public service background includes both volunteer and work positions with the United States Treasury Department, Senator Ted Kennedy's Office, and Senator Joe Biden's office.
During our chat, we discussed a wide range of topics that included: climate change, racism, gun violence, testing criteria in public schools, defund the police, student debt, and the state of journalism today. We also discussed the overall challenges of the democratic party and how they can once again align themselves with working class voters. 
I hope you enjoy this conversation as much as I did.
Watch episode: