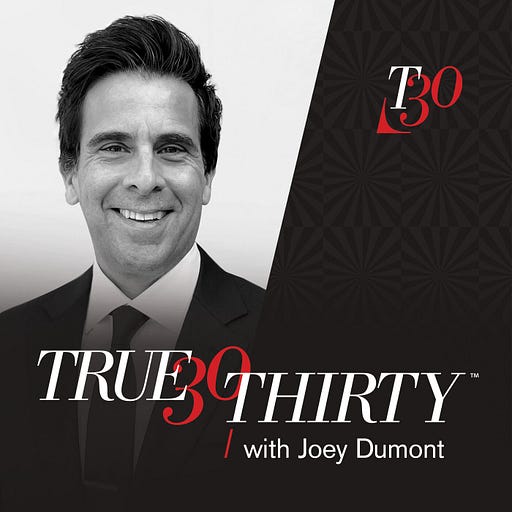 Oct 18, 2022 • 1HR 16M
Finding Common Ground on Guns, with Anthony Colandro and Kevin Ryan
True Thirty, with Joey Dumont is a podcast that discusses and debates our society's most politically compelling topics through the lens of slow journalism. Each show is investigated with a focus on narrative as well as discovery. We believe that the complexity of culture cannot be crammed into six-minute television segments, or snippets and memes on social media, where ideology and entertainment is now the priority. On the program, you'll hear the opinions of subject matter experts who'll explore the tangled topics of our day. Our collective goal is to help people better understand one another, not win a battle. After listening, you'll be reminded that a proper debate is not about victory, but that of inquiry, education, and viewpoint diversity. So tune in and talk amongst yourselves. You may even learn a thing or two.
"We don't need weapons of war on our streets."
"We need to ban assault rifles." 
"We need universal background checks." 
"America's gun culture is killing our children."
As part of my reporting on the subject of guns in America, I've interviewed folks who voiced these above narratives – people who believe that more gun regulations are necessary to combat the violence in our streets, and that we need to legislate a nationwide ban on assault rifles. 
I've also talked with folks who believe that "it's the person behind the weapon, not the weapon itself" that's the problem. And that banning assault rifles is analogous to outlawing a Corvette to combat drunk driving. 
And both have a point.  
In today's episode, I sat down with two gun enthusiasts who shared their expertise on the subject of firearms legislation and why attempting to ban assault rifles is not in the best interest of our country. And after hearing them out, I now believe that we're closer to a remedy than our current cultural and political divide would have us believe.
Watch Episode:
---
Kevin Ryan is the CEO and founder of Motivity Marketing, Inc and a bestselling author. He is known domestically and internationally as an entertaining speaker and informative practitioner in the digital presence trade. His opinions have been published in many prestigious publications such as the New Jersey Star Ledger and Forbes. His clients know him as a problem solver and expert in commerce, brand development and communications. In spite of humble beginnings selling phone book ads after graduating Suma Cum C Average from SUNY (no one cares campus) he has lectured at the likes of Columbia University, and USC Annenberg.
Anthony Colandro is an Executive Board Member of the NRA, Vice President of the Local NRA Chapter in New Jersey, and a Master Trainer Counselor with the NRA (one of only 60 in the Nation). He's the host of the hit radio show, Gun for Hire Radio – with over one million listeners nationwide – and author of the book, "Crime Proof: Think Like a Criminal and Beat Them at Their Own Game." In his spare time, he owns and operates the largest gun range in the United States in his home state of New Jersey.
True Thirty is a reader-supported publication. To receive new posts and support our work, consider becoming a free or paid subscriber.