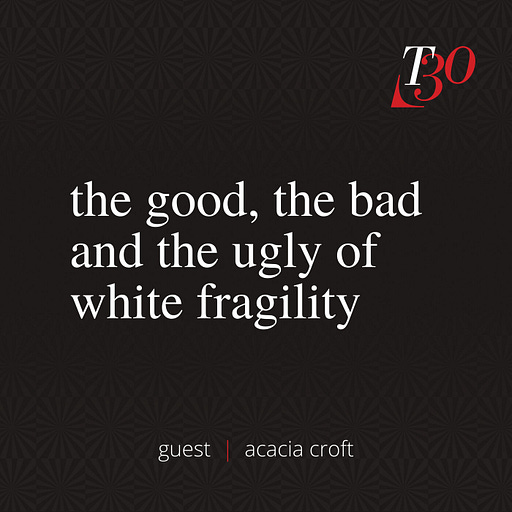 Dec 1, 2021 • 1HR 58M
Critical Race Theory Part 2: The Good, the Bad and the Ugly of Robin DiAngelo's book, White Fragility
True Thirty, with Joey Dumont is a podcast that discusses and debates our society's most politically compelling topics through the lens of slow journalism. Each show is investigated with a focus on narrative as well as discovery. We believe that the complexity of culture cannot be crammed into six-minute television segments, or snippets and memes on social media, where ideology and entertainment is now the priority. On the program, you'll hear the opinions of subject matter experts who'll explore the tangled topics of our day. Our collective goal is to help people better understand one another, not win a battle. After listening, you'll be reminded that a proper debate is not about victory, but that of inquiry, education, and viewpoint diversity. So tune in and talk amongst yourselves. You may even learn a thing or two.
This week's episode is with Acacia Croft, a long-time close friend and a highly educated person who kept me on my toes in this episode as we continued discussing around the Critical Race Theory, what's working and what's not working in our societal approach in education, the plight of black people, the white man narrative, and downside effects of Robin DiAngelo's campaign. This is by far my favorite interview and I know you'll walk away with a lot to think about as I did.
In This Episode:
Critical Race Theory in the Zeitgeist

Continued talking points from Dax Devlon-Ross

Educating the public

White Man Narrative

Intersectionality

Polarization of our society

Robin DiAngelo

Anti Racist Platform

Diversity, Equity and Inclusion

Media's continued role in today's narrative
About Acacia Croft:
Acacia Croft is a veteran educator serving schools and communities for over 15 years in both public and American international schools overseas.  She started her career in public service as the executive secretary for State Representative Albert J. Price Sr. in the Austin office assisting the constituency of District 22 in Jefferson County.  
Upon graduating from the University of Texas at Austin she joined Peace Corp and became a volunteer in Honduras, CA. She extended her service as a Peace Corps volunteer coordinator in Tegucigalpa working closely with the Secretary of Education.  During her time in the Peace Corps she supported local government and facilitated municipal initiatives focusing on civics education, health, community development and social responsibility. She is fluent in both English and Spanish.
Upon returning from her Peace Corps service she embarked upon a career as a LOTE middle school teacher in Title 1 schools.  She served in various public schools in Texas and was chosen to participate in a teacher exchange program with the American International School in Lagos, Nigeria.  She taught in Nigeria for a total of 6 years where she began her Masters in Counseling but fell short by one semester due to the Ebola epidemic.  During the 2014 Ebola epidemic she was among the core group of expat teachers to transition the school to a virtual platform.  Returning stateside in 2017, she returned to the classroom at the high school level and was then recruited to lead Census outreach and partnerships for k-12 organizations in the greater Houston area.
As senior partnership specialist Acacia is able to identify, cultivate, develop partnerships and strategic alliances with school districts, campuses, social service agencies, municipalities, businesses and other community stakeholders to conduct Census outreach and education.  She coached a team of 8 partnership specialists to educate, initiate and collaborate with community members and leaders   Acacia was responsible for the strategic development of outreach in the EC-12 community during the Census, post onset of Covid 19 pandemic, and post Census.  She executed and cultivated both external partnerships with the community as well as internal partnerships with operations and other regions.  She coordinated regional summits, collaborated with leadership and HQ initiatives as well as established innovative tactics in order to embed and corroborate the need for Census awareness and education.