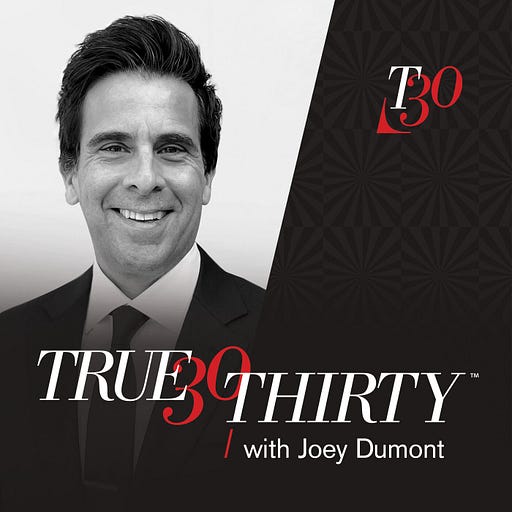 Jan 4 • 1HR 30M
Can Feminism and Gender Ideology Co-Exist?
Appears in this episode
True Thirty, with Joey Dumont is a podcast that discusses and debates our society's most politically compelling topics through the lens of slow journalism. Each show is investigated with a focus on narrative as well as discovery. We believe that the complexity of culture cannot be crammed into six-minute television segments, or snippets and memes on social media, where ideology and entertainment is now the priority. On the program, you'll hear the opinions of subject matter experts who'll explore the tangled topics of our day. Our collective goal is to help people better understand one another, not win a battle. After listening, you'll be reminded that a proper debate is not about victory, but that of inquiry, education, and viewpoint diversity. So tune in and talk amongst yourselves. You may even learn a thing or two.
Over the past year, I've spent countless hours studying the intersection of historical feminism and modern day gender ideology. I've interviewed numerous feminists, journalists, and academics who believe that the word Woman is defined by biology, not an identity… and that any change to this canonical definition is harmful to the categorization and protection of women at large.
In my attempt to better understand gender ideology, I've interviewed numerous members of our trans community, as well as the many activists and liberal progressives who believe in the immutable and unbendable mantra that Trans Women are Women.
And therein lies the rub.
Today, I moderate our first T30 debate with two former guests, Julie Bindel and Brit Abney. During our time together, we attempt to answer the question, Can Feminism and Gender Ideology Co-exist? As you will soon hear, Bindel and Abney debate what it means to be a woman, a feminist, and a TERF.
Bindel is a storied journalist and feminist who co-founded the law reform group, Justice for Women, and once served as the assistant director of the Research Centre for Violence, Abuse, and Gender Relations at Leeds Metropolitan University. She is also the author of Feminism for Women, The Real Route to Liberation, a book published in 2021 to much international fanfare.
Abney is an academic, activist, and progressive intellectual who passionately lobbies on behalf of our trans community here in America. My hope with bringing Julie and Brit back on the show was to prove that polite conversation is not only possible today…it's preferable… if our collective goal is to find compromise on the topics that divide us the most. I hope you learned as much as I did today. Thanks for listening!
Watch Episode:
True Thirty is a reader-supported publication. To receive new posts and support our work, consider becoming a free or paid subscriber.