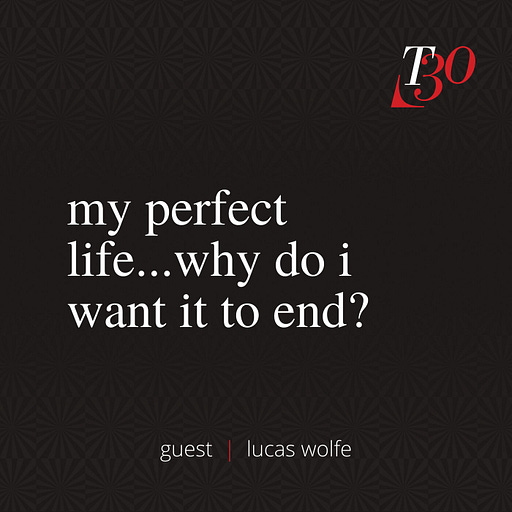 Apr 16, 2021 • 1HR 11M
Being Smarter with Your Mental Health with Guest Lucas Wolfe
True Thirty, with Joey Dumont is a podcast that discusses and debates our society's most politically compelling topics through the lens of slow journalism. Each show is investigated with a focus on narrative as well as discovery. We believe that the complexity of culture cannot be crammed into six-minute television segments, or snippets and memes on social media, where ideology and entertainment is now the priority. On the program, you'll hear the opinions of subject matter experts who'll explore the tangled topics of our day. Our collective goal is to help people better understand one another, not win a battle. After listening, you'll be reminded that a proper debate is not about victory, but that of inquiry, education, and viewpoint diversity. So tune in and talk amongst yourselves. You may even learn a thing or two.
Even though this episode covers the heavy topic of depression, you'll smile, feel less alone, be entertained, learn about yourself and enjoy the entire time.

Lucas Wolfe, the author of My Perfect Life, has an open conversation with Joey Dumont about having depression despite his "perfect life."

Other topics:
How he'd rather be punched in the face than watch the Kardashians.

His entertaining descent into darkness

Feeling like something was "off"

Understanding that depression isn't a constant; it comes and goes

Dismissing depression as normal teenage woes

Having sulfuric acid in his pants

Being naked in the back of a work truck

How easy it was to keep struggles hidden

What it feels like to come out of the hole

Talk therapy

Laughing about being vulnerable

Talking about the real person--not the social media person

Wanting the madness to stop--even for a night

Being smarter with your mental health

A touching story about his brother's pure reflection of joy
About Lucas Wolfe:
Lucas Wolfe lived a perfect life. He came from a loving home with strong family ties, had close friends, and earned good grades, yet he wanted to die. Believing he had no right to be depressed, he hid the signs of his inner turmoil for years until the illness broke him during his final semester at Penn State. Unable to eat, unable to sleep, he knew the harrowing choice that lay before him.
My Perfect Life tells the inspirational story of Wolfe's years-long battle against an invisible illness and reveals the steps he took to find peace, hope, and purpose after wanting to end his life. Through his goofy, relatable, and emotionally gripping stories, you'll experience the world through his eyes as he battled suicidal depression. His story eviscerates the myth that those who lead good lives don't struggle with their mental health while offering an abundance of hope and healing to all battling mental illness.