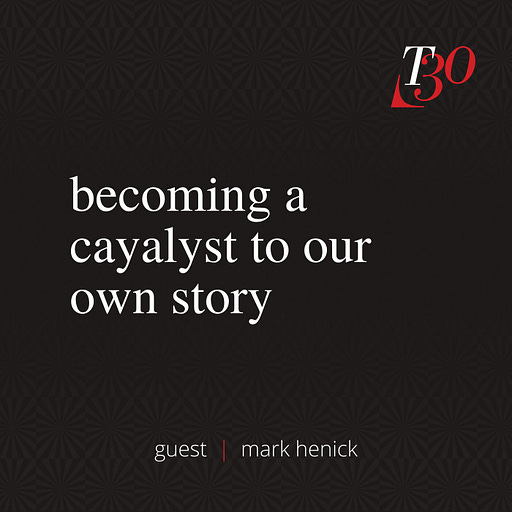 Jun 22, 2021 • 1HR 3M
Becoming the Catalyst in Our Story with Mark Henick
True Thirty, with Joey Dumont is a podcast that discusses and debates our society's most politically compelling topics through the lens of slow journalism. Each show is investigated with a focus on narrative as well as discovery. We believe that the complexity of culture cannot be crammed into six-minute television segments, or snippets and memes on social media, where ideology and entertainment is now the priority. On the program, you'll hear the opinions of subject matter experts who'll explore the tangled topics of our day. Our collective goal is to help people better understand one another, not win a battle. After listening, you'll be reminded that a proper debate is not about victory, but that of inquiry, education, and viewpoint diversity. So tune in and talk amongst yourselves. You may even learn a thing or two.
Mark Henick dives in with Joey Dumont sharing his personal journey seeking mental health treatment as a young boy and overcoming the breakdowns in a still-broken healthcare system for youth in Canada. He discusses the shift we actively take in our lives that change our course as shared in his personal memoir, So Called Normal.
In This Episode:
Shifting life's trajectory

Different roles we play in other peoples' lives

Authoring a book

Near death experience

Depression and suicide ideation

Individuation

Creating the support needed for mental health patients

Experience in psychiatric wards and the dehumanization patients experience

Problem with the current mental healthcare system for youths
About Mark Henick:
Informed by his direct experience with stigma and the mental health care system, Mark Henick dedicated his life from an early age to opening minds and creating change.
Mark is the principal and CEO of Strategic Mental Health Solutions, a boutique consulting firm that specializes in helping organizations and individuals to move strategically from basic mental health awareness toward meaningful, measurable action.
He has previously served as the youngest president of a provincial Canadian Mental Health Association division in history, the youngest member of the board of directors for the Mental Health Commission of Canada, and a national spokesperson for the Faces of Mental Illness campaign. He has worked as a front line mental health counsellor, and the manager of a national workplace mental health training program. Prior to his present role, Mark oversaw the Fund Development and Marketing & Communications portfolios for the Canadian Mental Health Association as National Director of Strategic Initiatives.
Mark's TEDx talk, Why We Choose Suicide, is among the most watched in the world with over 6 million views. His story of searching for "the man in the light brown jacket" who saved his life from a teenage suicide attempt went viral around world. When Mark learned of products being sold on Amazon that promoted suicide, his successful online petition to have them removed garnered tens of thousands of signatures and again gained global media attention. The worldwide rights to Mark's first book have been acquired by HarperCollins.
Mark brings a diverse and unique perspective of someone who has been a patient, a professional, and a policy influencer in the mental health system. He lives with his family in Toronto, Canada.
Website: https://markhenick.com/
IG: @markhenick     
FB: https://www.facebook.com/markhenick/     
TW: @markhenick