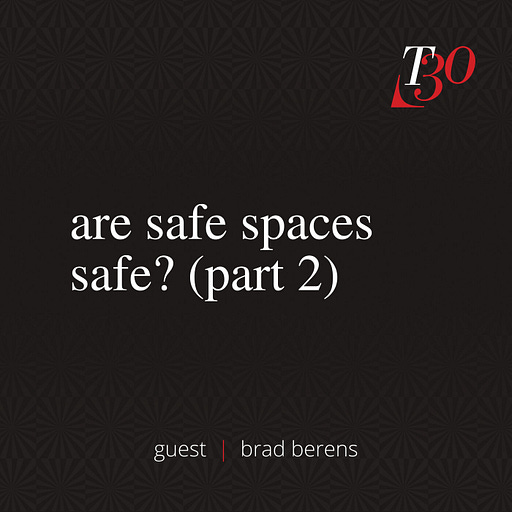 Aug 17, 2021 • 1HR 56M
Are Safe Spaces Safe? (Part 2 of a 2 part series)
True Thirty, with Joey Dumont is a podcast that discusses and debates our society's most politically compelling topics through the lens of slow journalism. Each show is investigated with a focus on narrative as well as discovery. We believe that the complexity of culture cannot be crammed into six-minute television segments, or snippets and memes on social media, where ideology and entertainment is now the priority. On the program, you'll hear the opinions of subject matter experts who'll explore the tangled topics of our day. Our collective goal is to help people better understand one another, not win a battle. After listening, you'll be reminded that a proper debate is not about victory, but that of inquiry, education, and viewpoint diversity. So tune in and talk amongst yourselves. You may even learn a thing or two.
Brad Berens and Joey sit down and continue the controversial topic of Safe Spaces on college campuses as Part 2 of the series, Are Safe Spaces Safe? The titled book The Coddling of the American Mind, How Good Intentions And Bad Ideas Are Setting Up A Generation for Failure, by Greg Lukianoff & Jonathan Haidt continues as the topic of debate between Brad and Joey.  Another great conversation between two intellectuals offering different perspectives.
In This Episode:
The Coddling of the American Mind (continued)

Marginalization of communities within universities

Cognitive Behavioral Therapy

Benefits of a Safe Space within universities

Hypersensitivity and Intersectionality

What is working within universities
Brad is a futurist and a historian, or "futuristorian," and this means that he's a digital strategist, consultant, editor, writer, critic, public speaker and thinker: mostly about media and technology (new and old), how changes in those evolve in a dynamic with behavior and culture (high and low), marketing (traditional and interactive) and how the things that audiences do with what they watch have a huge impact on who they are.
Brad was most recently the Editor in Chief of the Interactive Advertising Bureau (IAB) and currently acts as a Strategic Advisor for the USC Annenberg Center for the Digital Future, where Brad leads a handful of exciting projects; he's also Principal at Big Digital Idea Consulting.
It surprises some people to learn that Brad got his start thinking about media, culture and what audiences do with them as a bona fide Shakespearean scholar and stage historian. With a Ph.D. in English from U.C. At Berkeley, he spent years as a teacher and scholar, giving talks about Shakespeare all over the world. From Shakespeare to the internet can seem like a crazy transition, but when you learn that much of my academic work concerns how Shakespeare invented the modern audience — how he created the way we watch movies, TV and other forms of mass culture today — Brad's weird career trajectory starts to make a bit more sense. You can see his TEDx talk about Shakespeare as a business genius to get a sense of how his first career and subsequent work slam into each other.
For an even more impressive overview of Brad, you can read his full bio at https://bradberens.com.
Twitter: @bradberens
LinkedIn: https://www.linkedin.com/in/bradberens/