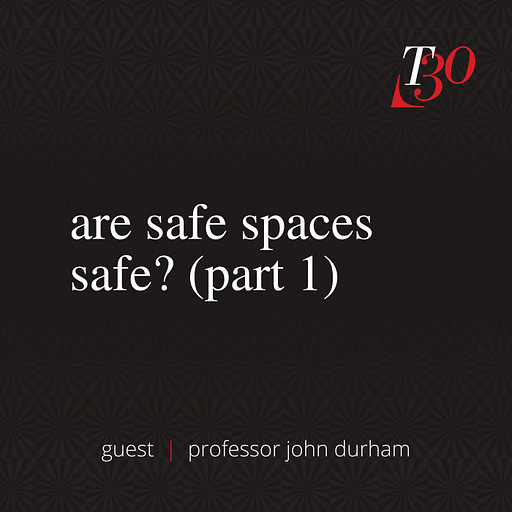 Aug 9, 2021 • 1HR 33M
Are Safe Spaces Safe? (Part 1 of a 2 part series)
True Thirty, with Joey Dumont is a podcast that discusses and debates our society's most politically compelling topics through the lens of slow journalism. Each show is investigated with a focus on narrative as well as discovery. We believe that the complexity of culture cannot be crammed into six-minute television segments, or snippets and memes on social media, where ideology and entertainment is now the priority. On the program, you'll hear the opinions of subject matter experts who'll explore the tangled topics of our day. Our collective goal is to help people better understand one another, not win a battle. After listening, you'll be reminded that a proper debate is not about victory, but that of inquiry, education, and viewpoint diversity. So tune in and talk amongst yourselves. You may even learn a thing or two.
Professor John Durham and Joey sit down and chat about the controversial topic of Safe Spaces on college campuses. This issue was explored at length in the book, The Coddling of the American Mind, How Good Intentions And Bad Ideas Are Setting Up A Generation for Failure, by Greg Lukianoff & Jonathan Haidt. The banter and debate that follows is worth a listen.  
In This Episode:
The Coddling of the American Mind (book)

Brands taking a stand in a stronger way

Safe Spaces within universities

Safe Spaces within corporate America

Trigger warning & microaggressions 

Are liberal ideologies dominating our top universities?
About Professor John Durham:
Professor John Durham is CEO and Managing Partner for Catalyst S+F (www.catalystSF.com). John has amassed one of the strongest resumes in marketing with a specific focus on digital marketing and advertising sales since 1995. 
John was formerly President of Sales and Marketing for Jumpstart Automotive Media, successfully engineering the company for sale to Hachette Filipacchi. Prior to his role with Jumpstart, John was EVP, Business Development for Carat Fusion and President of Pericles Consulting. 
John has also been responsible for overall management of Winstar Interactive (www.winstarinteractive.com) as President/CRO. At Winstar he ran the site specific rep firm for over six years. He oversaw the management of nine offices and sixty employees. 
John is also a professor at the University of San Francisco and a certified wine collector, knowledgeable in all varieties and selection. You can consider John a sommelier of marketing.