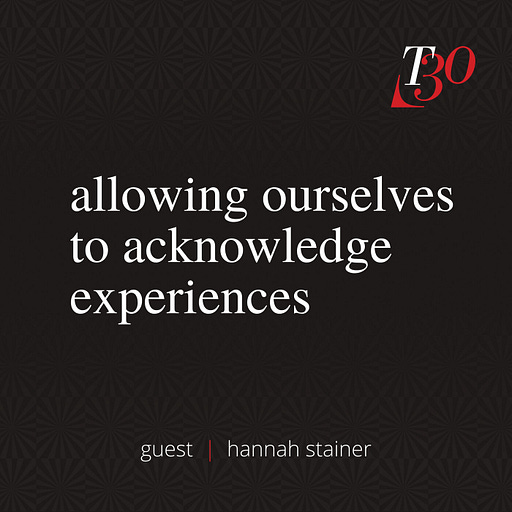 Jun 26, 2021 • 58M
Allowing Ourselves to Acknowledge Experiences
True Thirty, with Joey Dumont is a podcast that discusses and debates our society's most politically compelling topics through the lens of slow journalism. Each show is investigated with a focus on narrative as well as discovery. We believe that the complexity of culture cannot be crammed into six-minute television segments, or snippets and memes on social media, where ideology and entertainment is now the priority. On the program, you'll hear the opinions of subject matter experts who'll explore the tangled topics of our day. Our collective goal is to help people better understand one another, not win a battle. After listening, you'll be reminded that a proper debate is not about victory, but that of inquiry, education, and viewpoint diversity. So tune in and talk amongst yourselves. You may even learn a thing or two.
Hannah shares an open conversation with Joey about the value of sharing personal experiences with others to support a deeper discussion about the anxiety and emotions we all face. She also talks about being intentional and not being afraid to ask questions. Plus, they bond over a mutual love for Ironman.
In This Episode:
Difference between mental health in Britain vs the United States

Meghan Markle and Prince Harry

Societal reactions on suicide occurrence vs suicidal tendencies

Depression and perspectives of being depressed

Family dynamics 

Psychotherapy

Coping with social anxiety

Supporting youth with mental awareness

Intentional conversations

Cinema therapy
About Hannah Stainer:
Hannah Stainer is a Mental Wellbeing Coach, Youth Coach, a qualified Teacher and Speaker. She's the creator and host of the Psykhe Mental Wellbeing Podcast. Hannah has a Postgraduate Diploma in Special and Inclusive Educational Needs (specializing in Dyslexia and Autism), a Diploma in Life Coaching, a Level 3 Yoga Instructor qualification, a Masters Degree in Psychology and is a Graduate Member of the British Psychological Society. 
Hannah has experience of living with depression and anxiety, imposter syndrome, people-pleasing and an awful relationship with herself. She realized one day she wasn't really ok and set out to change her life, to be ok. Now she's sharing what she's learnt with others.
Hannah is a keen Mental Health advocate and holds several voluntary roles including as a Time to Change Champion, a Rethink Mental Illness Peer Mentor, a Cruse Bereavement Support Volunteer and a Samaritans Listening Volunteer.
IG: @psykhecoaching
TW: @psykhecoaching
FB: @psykhecoaching