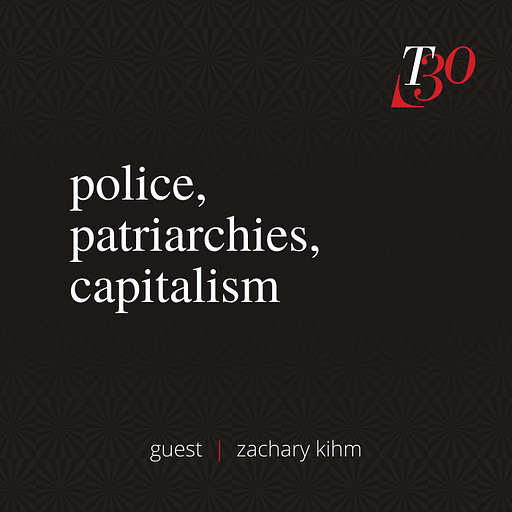 Oct 13, 2021 • 2HR 2M
Abolishing the Police, Patriarchies, and Capitalism
True Thirty, with Joey Dumont is a podcast that discusses and debates our society's most politically compelling topics through the lens of slow journalism. Each show is investigated with a focus on narrative as well as discovery. We believe that the complexity of culture cannot be crammed into six-minute television segments, or snippets and memes on social media, where ideology and entertainment is now the priority. On the program, you'll hear the opinions of subject matter experts who'll explore the tangled topics of our day. Our collective goal is to help people better understand one another, not win a battle. After listening, you'll be reminded that a proper debate is not about victory, but that of inquiry, education, and viewpoint diversity. So tune in and talk amongst yourselves. You may even learn a thing or two.
When a Liberal and a Leftist Walk Into a Bar...What happens when two well informed people pull up the proverbial barstool and start a friendly debate over our world's current issues?  One hell of a conversation, that's what.  Join me this week with guest Zachary Kihm as we have a lively discussion about critical race theory, the patriarchy, and equality! 
In This Episode:
Media embellishing narratives

Defunding the Police

Dangers of Ideology

Where Leftists push too far

Preventive measures for crime

Mental health funding in a broken system

Patriarchy

Segregation and Intersectionality

Universal basic income (UBI)
About Zachary Kihm:
Zachary Kihm is a social worker at Lutheran Social Services of Northern California, currently working with formerly homeless adults. He is also a graduate student at McGeorge School of Law, two classes away from receiving his Master's of Public Administration. Politically, Zachary is involved in local, state, and national politics. 
He runs two local political organizations -- Progressive Democrats of America Sacramento and Social Democrats USA (SDUSA) Sacramento -- and serves as Vice-Chair of Political Affairs for the Young Democrats of America (YDA) Hispanic Latinx (HLC) Caucus. He was recently elected as a Councilmember for the American Society of Public Administrators (ASPA). Personally, Zachary enjoys sports, reading, and watching anime/shows/movies.