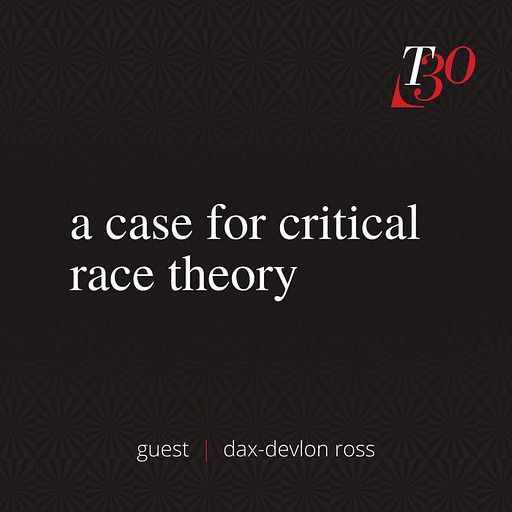 Sep 8, 2021 • 2HR 20M
A Case For Critical Race Theory
True Thirty, with Joey Dumont is a podcast that discusses and debates our society's most politically compelling topics through the lens of slow journalism. Each show is investigated with a focus on narrative as well as discovery. We believe that the complexity of culture cannot be crammed into six-minute television segments, or snippets and memes on social media, where ideology and entertainment is now the priority. On the program, you'll hear the opinions of subject matter experts who'll explore the tangled topics of our day. Our collective goal is to help people better understand one another, not win a battle. After listening, you'll be reminded that a proper debate is not about victory, but that of inquiry, education, and viewpoint diversity. So tune in and talk amongst yourselves. You may even learn a thing or two.
In an attempt to understand the complexity and controversy of something called Critical Race Theory (CRT), I sat down with my buddy Dax-Devlon Ross to hear what he had to say. We talked a bit about his personal story as a black man, his time in law school, the reasons he wrote his remarkable book (Letters To My White Male Friends), and why he chose a career in the field of Diversity, Equity, & Inclusion. During some of our dialogue you'll hear me laugh when it seems a bit inappropriate… probably due to the absurdity of the ever present racism woven into our culture. I'm gobsmacked about what I have learned over the past few years, and my chat with Dax is only scratching the surface.  
In This Episode:
Representation in the marketing industry

Differences of diversity, inclusion and equity (DEI)

Exploitation of the black consumer base

Biased opinion of "exceptionality" versus "normal"

Woke Updates and whitewashing vernacular

Bret Weinstein and Ideological dangers

Contempt for black people and how it's rooted in racist history

Ben Shapiro

Moving beyond constructs and understanding opposing views
About Dax-Devlon Ross:
Dax-Devlon Ross has led a career as an educator, non-profit executive, equity consultant and journalist with a focus on social justice. After receiving his Juris Doctorate from George Washington University, he joined New York City Teaching Fellows where he taught in middle and high schools in Brooklyn and Manhattan. He later helped lead the national training and replication team at the Posse Foundation, one of the country's foremost college access organizations. During his tenure at Bank Street College of Education, he managed the school's partnership with the Corporation for National and Community Service. 
As the founding Executive Director of After-School All-Stars New York and New Jersey, Dax built, from scratch, a team of 60 full and part-time program, development and operations staff serving more than 1,500 students across two states. Thereafter he served the organization as its inaugural northeast regional executive director, managing five chapter executive directors, while overseeing regional growth strategy, partnership development and management, donor stewardship, board governance and chapter operations.
For over a decade, Dax's social justice consulting practice has focused on developing disruptive strategies to generate equity in workplaces and education spaces alike. Dax's clients have included: The Anti-Defamation League, The New World Foundation, The Posse Foundation, Fund II Foundation, Bard College, Kean University and more.
Dax is the author of five books and his journalism has been featured in Time, The New York Times, The Virginia Quarterly Review and other national publications. He was the winner of the National Association of Black Journalists' Investigative Reporting Award for his coverage of jury exclusion in North Carolina courts. He is currently an investigative reporting fellow at Type Media Center, an alumnus of Coro Leadership New York and a member of NationSwell Council.
Twitter: @daxdev
IG: @daxdevross